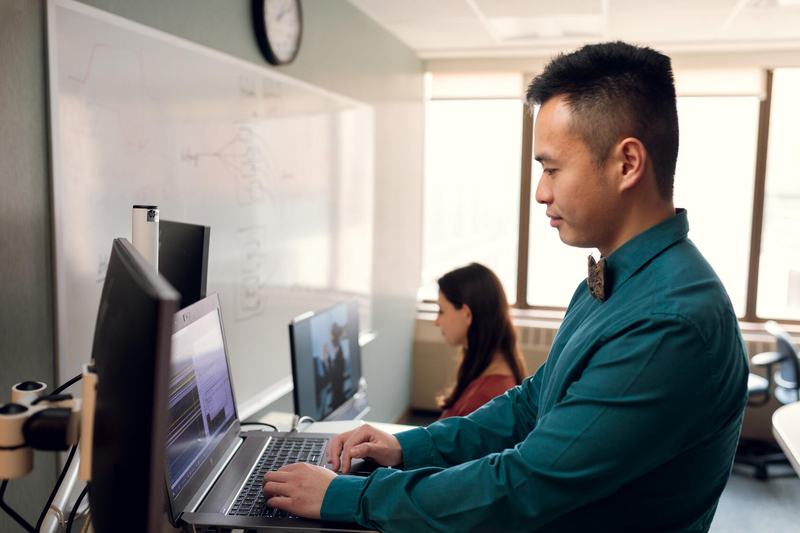 Fundamentals of Clinical and Translational Science (FunCaTS)
Mayo Clinic's Fundamentals of Clinical and Translational Science (FunCaTS) combines 13 online modules strategically bundled to enable medical professionals and allied health staff to expand their knowledge of clinical and translational research components. These components provide the fundamental knowledge to promote understanding of the process of bringing discoveries to the bedside and the population.
Summary
Are you interested in making a difference in the lives of the patients we serve? Do you care about making sure scientific discoveries are translated into clinical practice?
Clinical and translational science is the process of turning laboratory discoveries into actionable clinical interventions that can improve the health of communities. FunCaTS is the perfect way to introduce yourself to these concepts and learn about what is involved in being a successful clinical and translational professional.
This course was developed to be accessible to all levels of interest. It is brought to you in an asynchronous format, allowing you to engage with the materials at your own pace and on your timeline. The FunCaTS course can be completed in approximately four hours. It includes 13 online modules that progressively introduce you to fundamental concepts of clinical and translational science. Please see the curriculum tab for a detailed look at the course topics. Registered participants receive course access for one year after their enrollment date.
For those wishing to dig in a little deeper, we recommend Mayo's Essentials of Clinical and Translational Science course (ECaTS), which includes access to FunCaTS.
Learning Objectives:
Identify and describe the clinical and translational science process.
Describe clinical and translational science's impact on clinical practice, including the social and ethical context.
Explain clinical and translational science methodologies.
The FunCaTS online self-paced course can be completed in approximately four hours and includes the following modules:
Introduction to Clinical and Translational Research
Developing a Research Question
Research Approaches for Collecting Scientific Evidence
Introduction to Study Design
How to Write a Research Proposal
Principles of Human Subjects Research
Statistics

Basic Principles
Questions Statisticians Ask
What are Confidence Intervals and P-values?
Statistical Errors and How to Avoid Them
Using Statistics as You Read the Literature

An Overview of Community-Engaged Research (CEnR)
Responsible Conduct of Research
Learners from all backgrounds are welcomed into this introductory course.
FunCaTS has enrolled learners from all over the world in many different stages of professional development. This course is specially tailored to undergraduate, post-baccalaureate, and medical school students, learners currently in a fellowship or residency, faculty, and those interested in life-long learning. We have welcomed healthcare practitioners, researchers, investigators, and scientists—and hope to add to that list over time as our accessible course expands to wider audiences.
Learner Testimonials:
"This program helped me better understand research literature, enabling me to keep current in my practice with evidence-based science."
"I can now accurately critique research articles."
"I gained more knowledge to differentiate between statistical significance and clinical relevance, which assists me in better understanding research study outcomes."
We look forward to featuring your comments here soon!
Anthony J. Windebank, M.D.

Judith and Jean Pape Adams Professor of Neuroscience

Professor of Neurology

Dr. Windebank served as the Dean of Mayo Graduate School, the Dean of Mayo Medical School, and has been involved in the development and leadership of the Center for Clinical and Translational Sciences at Mayo Clinic and the Center for Regenerative Medicine. Since 1980, he has been instrumental in designing or conducting more than 50 clinical trials and studies.

Jon O. Ebbert, M.D.

Professor of Medicine

Associate Chair, Department of Internal Medicine

Medical Director, Nicotine Dependence Center

Section Lead, Telehealth, Community Internal Medicine, Geriatrics and Palliative Care

Dr. Jon O. Ebbert is a Professor of Medicine, Medical Director for the Nicotine Dependence Center, Associate Chair for the Department of Medicine for Innovation, and a general internist with an active telehealth practice focused on rural healthcare for patients with medically-complex illnesses. He has worked in cancer control for more than 25 years with 150 publications focused on tobacco dependence treatment.

Walter A. Rocca, M.D., M.P.H.

Consultant, Division of Epidemiology, Department of Quantitative Health Sciences

Professor of Epidemiology

Professor of Neurology

Dr. Rocca is a Professor of Epidemiology and Neurology and the Ralph S. and Beverley E. Caulkins Professor of Neurodegenerative Diseases Research at Mayo Clinic. He has served on several expert panels for the National Institutes of Health and other national and international institutions.

Jessica R. Hirsch, Ph.D.

Instructor in Biomedical Ethics

Senior Education Specialist

Dr. Jessica R. Hirsch received her doctorate in bioethics from Loyola University, Chicago and is a certified IRB professional. Dr. Hirsch began her inquiry of human subjects research protections in 2004, when she was assigned a clinical research coordinator position in adult neoplastic diseases. Since then, she has devoted much of her professional energies on expanding human subject research protection programs across the United States, in addition to educating all levels of research staff on federal regulations and policies that ensure the protection of human research subjects.

Felicity T. Enders, Ph.D.

Consultant, Division of Clinical Trials and Biostatistics, Department of Quantitative Health Sciences

Professor of Biostatistics

Track Program Director, Clinical and Translational Sciences (CTS)

MCCCC Deputy Director for Equity, Inclusion and Diversity

Dr. Felicity Enders is a leader in statistical education for medical researchers at Mayo Clinic and around the world. She engages in clinical and translational research with both nephrology and gastroenterology, and hepatology.

Joyce E. Balls-Berry, Ph.D.

Associate Professor of Neurology

Washington University School of Medicine in St. Louis

Dr. Balls-Berry is a psychiatric epidemiologist and health educator. At Mayo, she was an Assistant Professor of Epidemiology and Program manager for the Office for Community Engagement in Research. Currently, she is at the Washington University School of Medicine in St. Louis. Her primary research focuses on applying community and patient-engaged research principles in diverse populations to reduce health disparities and increase health equity. Much of Dr. Balls-Berry's research centers on determining ways to increase diversity and inclusion in clinical and translational science.

Richard Sharp, Ph.D.

Consultant, Division of Healthcare Policy & Research, Department of Quantitative Health Sciences

Lloyd A. and Barbara A. Amundson Professor of Biomedical Ethics Honoring Paul S. Mueller, M.D.

Consultant, Division of General Internal Medicine, Department of Internal Medicine

Consultant, Department of Clinical Genomics, Mayo Clinic Enterprise

Professor of Biomedical Ethics

Professor of Medicine

Dr. Sharp is the Director of the Biomedical Ethics Program at Mayo Clinic. Dr. Sharp frequently advises healthcare organizations on ethical issues and has served on advisory committees for the National Institutes of Health, Institute of Medicine, American College of Medical Genetics, and US Environmental Protection Agency.