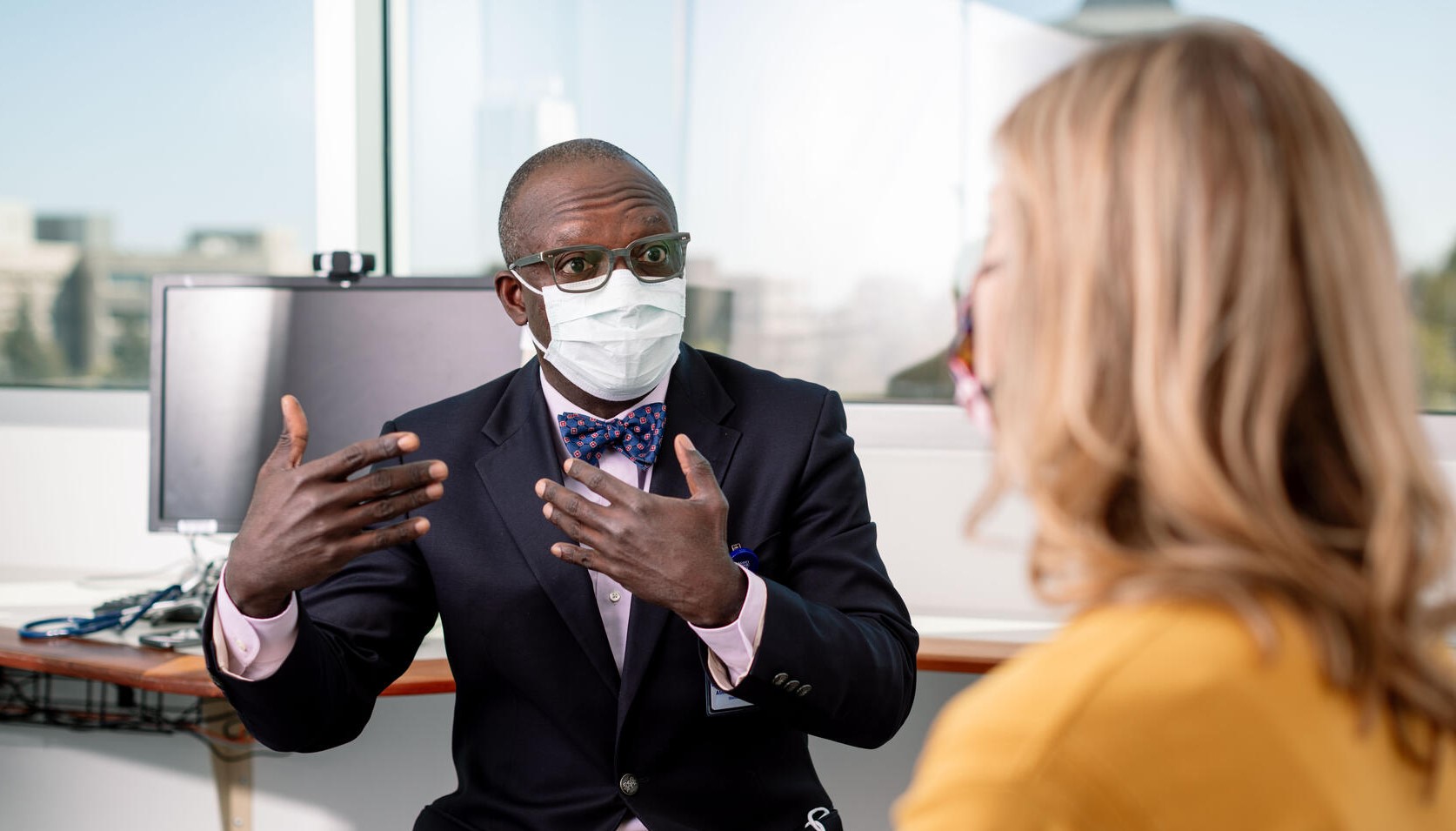 Research Training Program for the Healthcare Provider
Dates
11/22/2022 - 11/22/2025
The Research Training Program provides foundational knowledge of research terminology, research methods and processes.
Summary
The Research Training Program provides foundational knowledge of research terminology, research methods and processes. The program shares how an institutional research board (IRB) functions within a healthcare organization to ensure the rights, privacy and welfare of all human participants in research programs. In addition, the program prepares learners to critically review medical literature, such as scholarly publications, and to understand the critical components and skills required to write a study proposal.
Learning Objectives
After completing the program, learners will be able to:
Identify concepts and terminology used in clinical research
Define health disparities and health equity and identify factors that lead to health inequalities
Recall best practices in writing, submitting and publishing research
Identify principles of evidence-based medicine
Identify examples of conflict of interest and their effect on research compliance
Name the key considerations for commercializing intellectual property and creating partnerships
Identify principles on evaluating new collaborators and funding opportunities
Upon successful completion of the program, learners earn a certificate of completion.
This online self-paced course is available until November 22, 2025 and contains approximately 6 hours of recorded presentations.
Topics covered include:
Basics of Study Design
Health Disparities and Health Equity
Responsible Conduct of Research
How to Write a Research Proposal
Publishing Manuscript Pearls
Understanding Why Institutional Review Boards (IRBs) Exist
Intellectual Property and Commercialization
Developing Multi-Site National and International Collaborations
Click here to view the full program schedule.
This course is designed for administrators, healthcare professionals, physicians, nurse practitioners, physician assistants, and other healthcare providers who have an interest in learning more about research.
Anthony Windebank, M.D.

Professor of Neurology

Since 1980, Dr. Windebank has been involved in the design or conduct of more than 50 clinical trials and clinical studies. Dr. Windebank's laboratory coordinates the research activities of a multidisciplinary team with members from the several departments. Dr. Windebank has published more than 400 scholarly articles or abstracts including more than 220 full-length publications in peer-reviewed journals.

Mark L. Wieland, M.D.

Associate Professor and Chair of the Division of Community Internal Medicine

Dr. Wieland is a practicing primary care physician. Having trained in medicine and public health, Dr. Wieland's clinical and research interests lie in health promotion through community participation in research aimed at reduction of health inequities. With funding from the National Institutes of Health, he has led research to improve community health with local solutions.

Sumithra J. Mandrekar, Ph.D.

Professor of Biostatistics and Oncology

Dr. Mandrekar is the Group Statistician for the Alliance for Clinical Trials in Oncology, which is one of the four NCI- funded national clinical trials networks for the conduct of phase II and III clinical trials in adult cancer. She is widely recognized for significant contributions to the statistical methodology for the design, conduct and analysis of clinical trials, for leadership in clinical trials and data management coordination, and for leadership on national and international steering committees and advisory panels.

Richard O. White III, M.D., M.Sc.

Assistant Professor Internal Medicine and Pediatrics Consultant, Community Internal Medicine

Dr. White focuses his research and community engagement efforts with underserved populations particularly Latinos with limited English proficiency. Dr. White serves as core faculty in the Mayo Center for Health Equity and Community Engaged Research (CHCR) and also serves as the Associate Chair for Equity, Inclusion, and Diversity for the Department of Medicine.

Jon O. Ebbert, M.D.

Professor of Medicine, College of Medicine and Consultant, Community Internal Medicine

Dr. Ebbert is a primary care practitioner, Professor of Medicine and Director of the Inhaled Particle Aerosol Laboratory (IPAL) at Mayo Clinic. He has over 200 publications predominantly in the area of addiction and tobacco treatment. Dr. Ebbert maintains an active clinical practice while conducting research on electronic nicotine and cannabis delivery devices.

Colin P. West, M.D., Ph.D.

Professor of Biostatistics and Medical Education and Consultant, General Internal Medicine

Dr. West's research has focused on medical education and physician well-being. His research has been widely published in prominent journals. Dr. West developed and directs the evidence-based medicine curriculum for the Mayo Clinic Alix School of Medicine and developed and teaches courses within the Mayo Clinic Graduate School of Biomedical Sciences on systematic reviews and diagnostic reasoning.

Mark D. Tyson II, M.D., M.P.H.

Urologic Oncologist and Associate Professor of Urology, Mayo Clinic Alix School of Medicine

Dr. Tyson's clinical focus includes treatments for muscle invasive and nonmuscle invasive bladder cancer while his research agenda is centered around improving quality of life for patients with bladder cancer. His research aims to provide high-quality empirical data that can be leveraged by bladder cancer patients for informed decision-making purposes. He is an assistant editor at the Journal of Urology.

Monica M. Sveen Ziebell, M.B.A.

Administrator, Office of Medical-Industry Relations and Conflict of Interest Review

Monica Sveen Ziebell currently serves as the Administrator for the Offices of Medical-Industry Relations and Conflict of Interest Review. She is a member of the Forum on Conflict of Interest in Academe Steering Committee.

Kathleen D. McNaughton, J.D.

Administrator, Research Compliance

Kathleen McNaughton is a healthcare attorney currently serving as the Research Compliance Officer at Mayo Clinic. She holds a Juris Doctor degree specializing in healthcare law and is Certified in Healthcare Research Compliance (CHRC) through the Compliance Certification Board.

Matthew T. Drake, M.D., Ph.D.

Consultant, Division of Endocrinology and Associate Professor of Medicine

Dr. Drake serves as an editor on the editorial board for multiple endocrine and bone-related journals. He performs translational research focused on understanding the basis by which monoclonal gammopathies induce bone loss and fractures, and the mechanisms underlying age-associated bone loss. Dr. Drake has served as a member of the Mayo Clinic Institutional Review Board (IRB) for the past 10 years, including as an IRB chair for the past 3 years.

Andrew J. Danielsen

Chair, Mayo Clinic Ventures

Andrew oversees the licensing, technology development, and business development functions of Mayo Clinic Ventures. Collectively, these groups work to identify, develop, and commercialize Mayo Clinic intellectual property. In addition, Mayo Clinic Ventures is also involved in co-managing a $250 million venture and growth fund.

Aaron S. Mansfield, M.D.

Medical Oncologist

Dr. Mansfield has played a significant role in clinical trials leading to FDA approval of agents for thoracic malignancies including atezolizumab for small cell lung cancer, prasetinib for RET-fusion non-small cell lung cancer and the combination of ipilimumab with nivolumab for mesothelioma. His laboratory runs many translational projects to discover and validate biomarkers in thoracic malignancies.
Frequently Asked Questions
Is there a discount available for Mayo Clinic employees?
Yes, we are pleased to offer this course at a reduced cost to Mayo employees. Mayo employees should click Login along the top navigation and click on the Mayo Clinic Employee Sign In button. Next, navigate to the course page. The reduced price will be displayed at the bottom of the page. The reduced price will also display when the course has been added to the shopping cart.