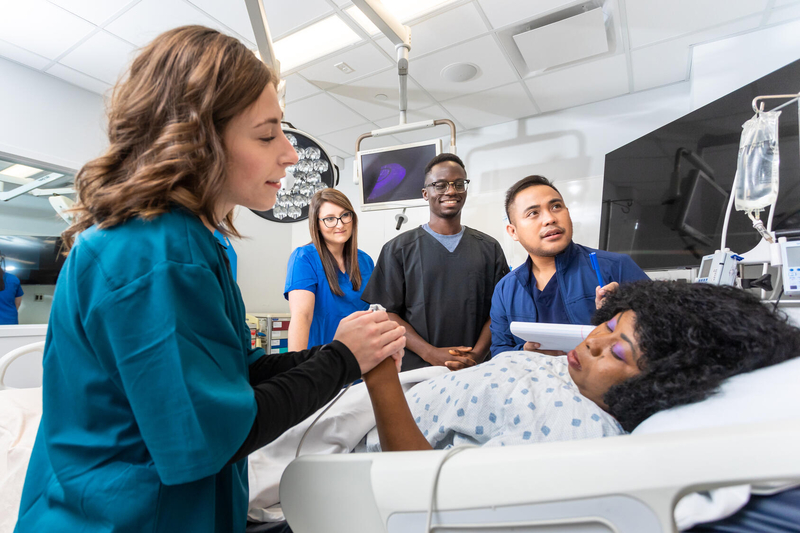 Clinician Communication Series: Key Skills for Inpatient Settings
Dates
10/2/2023 - 10/2/2026
Duration
Less than one hour
This brief collection of digital lessons sets the foundation of communication skills for clinicians working with patients experiencing a hospital stay. The strategies and skills focus on listening with curiosity, demonstrating warmth, developing empathy and supporting patient autonomy which enhance communication skills in the inpatient care environment.
Summary
Communicating in the inpatient environment is key to the success of the clinical outcome and patient experience. This three-part collection of brief digital lessons sets the foundation to communicating with patients or their loved ones while experiencing a hospital stay. Skills taught focus on essential listening strategies, key elements of nonverbal communication, and behaviors to create a moment of connection with patients that will strengthen their care and provide you with clinician job satisfaction. The skills of listening with curiosity, demonstrating warmth, developing empathy and supporting patient autonomy can be universally applied to all types of healthcare roles and settings with the goal of enhancing communication skills in patient care.
Learning Objectives
After completing the course, learners will be able to:
Recall techniques that demonstrate active listening
Recognize nonverbal cues and how they can be used to enhance communication and connection
Recognize strategies for building connection through personal interactions
Upon successful completion of the program, learners earn a certificate of completion.
This online self-paced course is available until October 2, 2026 and contains approximately one hour of recorded presentations.
This 30 minute asynchronous course consists of three subject areas that directly influence a patient's experience: the power of listening, communicating nonverbally, and communication to connect with patients. The course also includes a short assessment.
Technology Requirements
Computer with internet access
Speaker or headset
Web broswer
This course is designed for administrators, healthcare professionals, physicians, nurse practitioners, physician assistants, and other healthcare providers.
Brooke Werneburg, MA, NBC-HWC

Course Director

Brooke Werneburg is the Experience Manager for Mayo Clinic Experience- Training, Education, and Coaching and is an Assistant Professor of Medicine in the Department of Medicine. Since 2007, Brooke has lead education efforts for clinicians in enhancing communication experiences, trained staff in wellbeing strategies and coached patients towards desired behavior changes at Mayo Clinic. Fostering communication skills in the patient-clinician relationship has allowed Brooke to impact the healthcare experience leading to enhanced overall satisfaction for both clinicians and patients. Brooke holds a Master of Organizational Leadership degree from St. Mary's University of Minnesota and is a nationally board-certified coach.

Sheri Nemec, MS, CPXP

Course Director

Sheri Nemec is a consultation and relationship manager for Quality and serves as a liaison for consulting activity between Mayo Clinic Quality and external healthcare organizations. Prior to this role, Sheri served as Patient Experience Manager for Mayo Clinic. She has worked with Mayo Clinic since 2001 supporting a variety of areas including staff and leadership development, quality, and patient experience. Sheri completed her Master of Counseling Degree at Minnesota State University Mankato. She is a Certified Patient Experience Professional (CPXP) and a Certified Change Management Practitioner. Sheri holds an academic rank of Instructor in Healthcare Administration in the Mayo Clinic College of Medicine and Science.

Laurel Oetjen, PhD, MOT, OTR/L, CELDC

Laurel Oetjen is an advisor for Mayo Clinic Experience – Training, Education, and Coaching and an instructor of Physical Medicine and Rehabilitation. Laurel's background in Occupational Therapy and work in Experience have allowed her to facilitate conversations that lead to enhanced experiences for staff and patients. Laurel holds a Master's in Occupational Therapy, a Ph.D. in Leadership, and is a Certified Executive Leadership and Development Coach.

Shawn Grimsley

Shawn is the Experience Training, Education & Coaching (XTEC) Senior Digital Content Strategist. He joined Mayo Clinic in 2021. Shawn holds a law degree and a master's degree in public administration. He has worked as an instructional designer, subject matter expert, and has more than a decade of experience facilitating online courses.