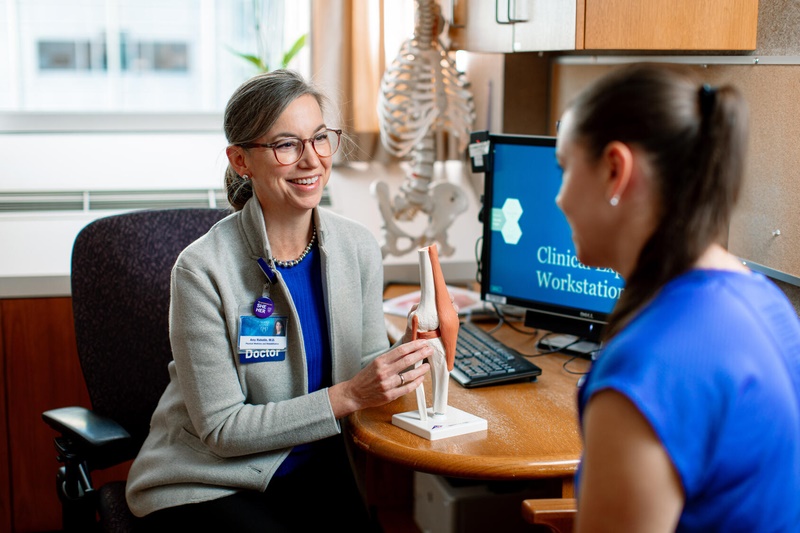 Clinician Communication Series: Connect, Inform, Follow Through
Duration
Less than one hour
This brief collection of digital lessons offers practical communication skills and strategies that support the patient-clinician relationship and overall experience for improved healthcare outcomes, increased patient compliance, and improved patient-clinician satisfaction.
Summary
Connect, Inform, Follow Through is a self-paced course from the Clinician Communication Series which offers strategies for establishing a connection in which patients feel heard, understood, respected, and involved in their care decisions. Clinicians can enhance their connection with patients by applying communication approaches that build trust and facilitate an effective exchange of information.
Learning Objectives
After completing the program, learners will be able to:
Describe how intrapersonal communication skills impact the patient care experience
Apply communication approaches with patients to establish a patient-provider connection
Demonstrate communication skills to effectively share information through eliciting and engaging patients in their care
Identify communication strategies to enhance patient follow-through by co-creating plans and building patient confidence in their healthcare goals
Upon successful completion of the program, learners earn a certificate of completion.
This online self-paced course is available until March 1, 2026 and contains less than one hour of recorded presentations.
This 30 minute asynchronous course consists of three subject areas that directly influence a patient's experience: establishing connections between patients and the care team, exchanging information throughout their experience, and following through with a plan. The course also includes a short assessment.
This course is designed for administrators, healthcare professionals, physicians, nurse practitioners, physician assistants, and other healthcare providers.
Sheri Nemec, MS, CPXP

Course Director

Sheri Nemec is a consultation and relationship manager for Quality and serves as a liaison for consulting activity between Mayo Clinic Quality and external healthcare organizations. Prior to this role, Sheri served as Patient Experience Manager for Mayo Clinic. She has worked with Mayo Clinic since 2001 supporting a variety of areas including staff and leadership development, quality, and patient experience. Sheri completed her Master of Counseling Degree at Minnesota State University Mankato. She is a Certified Patient Experience Professional (CPXP) and a Certified Change Management Practitioner. Sheri holds an academic rank of Instructor in Healthcare Administration in the Mayo Clinic College of Medicine and Science.

Brooke Werneburg, MA, NBC-HWC

Faculty

Brooke Werneburg is the Experience Manager for Mayo Clinic Experience- Training, Education, and Coaching and is an Assistant Professor of Medicine in the Department of Medicine. Since 2007, Brooke has lead education efforts for clinicians in enhancing communication experiences, trained staff in wellbeing strategies and coached patients towards desired behavior changes at Mayo Clinic. Fostering communication skills in the patient-clinician relationship has allowed Brooke to impact the healthcare experience leading to enhanced overall satisfaction for both clinicians and patients. Brooke holds a Master of Organizational Leadership degree from St. Mary's University of Minnesota and is a nationally board-certified coach.
Frequently Asked Questions
Is there a discount available for Mayo Clinic employees?
Yes, we are pleased to offer this course at a reduced cost to Mayo employees. Mayo employees should click Login along the top navigation and click on the Mayo Clinic Employee Sign In button. Next, navigate to the course page. The reduced price will be displayed at the bottom of the page. The reduced price will also display when the course has been added to the shopping cart.